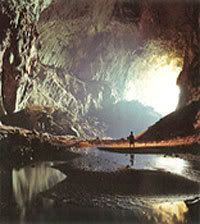 Gunung Mulu National Park, (52,000 Ha) in Sarawak encompasses incredible caves and karst formations in a mountainous equatorial rainforest setting. Mulu continues to retain this sense of adventure associated with its' original exploration through the provision of adventure caving and other adventure activities. Emphasis is also placed on promoting an awareness of the park's significance and its environment through activities that foster an understanding and appreciation of the parks values.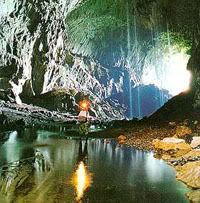 Mulu has an exceptional level of biological diversity with over 3,500 species of plants recorded in the park. These include a variety of highly specialized orchids, pitcher plants, palms, gingers and a most unusual 'One Leaf' plant to be found at the entrance of certain caves.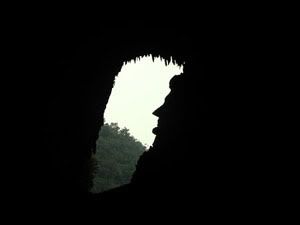 Amazing Abraham Lincoln profile at the cave entrance!

There is also a large diversity of fauna species that include deer, monkeys, giant porcupine, civets and all of Borneo's hornbills, but many visitors to the park are surprised at the limited sightings. This is largely due to the nature of the animals and the habitat in which they are found. Many animal species are shy or nocturnal, have excellent camouflage abilities or live high in the rainforest canopy.

The source of Mulu's great biological diversity lies in the changes in topography from just 50 metres above sea level near park headquarters to the peaks of Gunung Mulu at 2,377 metre and Gunung Api at 1,682 metres. The geology, which consists of a combination of alluvial clays, sandstone and limestone formations, further adds to the variety and specialization of the park's biology.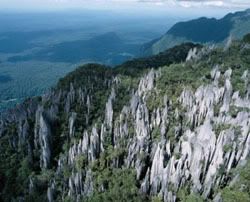 Pinnacles at Mulu

As with much of Borneo, the rivers at Mulu form the primary means of transport. The park's steep landscape means most of the access is restricted to the rivers flowing on the park's boundaries in the lowland areas. Even by equatorial standards, Mulu has a high annual rainfall with an average of five to six metres. Fortunately weather patterns in the park are reasonably consistent with mostly clear mornings and showers in the late afternoon or evening.

Visitors are also attracted by the staggering number of insect species to be found in the park. For example, 458 species of ants have been recorded in the park. Mulu's fauna includes a large variety of insects with camouflage adaptations most notably the stick (Phasmids) and leaf insects.